Fracht Australia News - September 2019
1/9/2019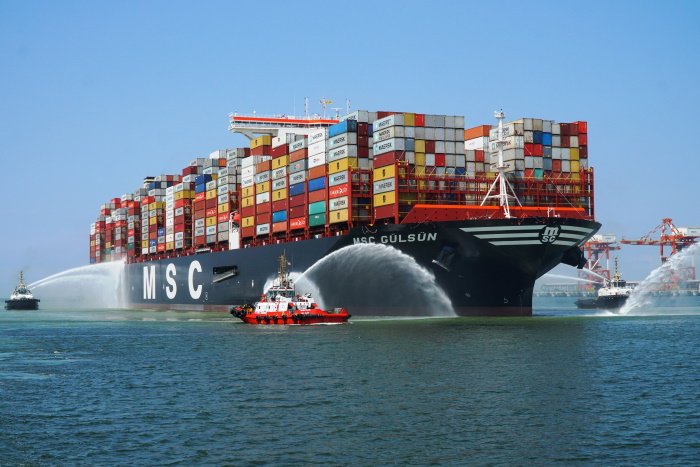 "If you think it's expensive to hire a professional, just wait until you hire an amateur."
Anonymous
AROUND THE WORLD
EGYPT: We are delighted to announce that Fracht has opened a new company in Egypt under the expert leadership of Mohamed Abdelraouf (chairman) and Ahmed Mohamed (CEO) and their highly experienced logistics team. Fracht Egypt provides comprehensive logistics and freight forwarding services by sea, air and land including project transport and warehousing. Office address: FRACHT EGYPT, 129 El Marghany Street, Heliopolis, Cairo, Egypt - T 202-2690-1100-1200/1300.
HONG KONG: August was not a good month for Hong Kong's airport. Numerous flights were cancelled or delayed as a result of the ongoing disruptions caused by protesters for a number of days. The closure or partial closures of the airport resulted in huge backlogs of cargo. The Civil Aviation Administration of China (CAAC) issued a SEVERE SAFETY WARNING to Cathay Pacific ordering the airline to ban all staff who took part in or supported "illegal protests, violence and other radical activities" from operating flights to and from mainland China and carrying out other activities related to air transport. Cathay's CEO Rupert Hogg and chief customer and service officer Paul Loo resigned in the wake of the airline's involvement in recent events in Hong Kong.
INDIA: The Central Board of Indirect Taxes and Customs have implemented new changes to the Sea Cargo Manifest regulation. Arrival manifests must be submitted to Indian Customs prior to arrival at the last port of departure before calling India. New elements on the manifests are six digit Harmonised Code for all commodities, IEC code for the consignee, PAN for the Notify Party and the Value of the Cargo. Failure to provide correct information could result in penalties which will be passed on to shippers.
KAZAKHSTAN: The former capital Astana has been renamed to NUR-SULTAN in honour of the country's previous long time president. The IATA airport code for the city, being TSE, remains unchanged.
KENYA: Effective 7 August all imported cargo for Nairobi must be transported by railway to the Inland Container depot in Nairobi and must be cleared there. Cargo with final destination Mombasa can be cleared in the Port of Mombasa.
SEAFREIGHT NEWS
A NEW VESSEL SHARING AGREEMENT BETWEEN MSC AND CMA CGM will commence in September and enhance both carriers' services between Europe and Australia. The new direct service will operate with a fleet of 14 ships of 9,000 TEU (twenty foot equivalent unit) capacity and the rotation will be: London – Rotterdam –Hamburg – Antwerp – Le Havre – Fos sur Mer – La Spezia – Genoa – Gioia Tauro – Pointe des Galets – Port Louis – Sydney – Melbourne – Adelaide – Fremantle – Singapore – Colombo – Valencia – Sines – London.
THE LARGEST CONTAINER VESSEL IN THE WORLD enters into service. MSC has taken delivery of the 23,000 TEU container ship "MSC Gulsun". The vessel is 400 metres long and 24 containers wide on deck and will operate between China and Northern Europe. MSC ordered six of these large vessels from the South Korean shipyard.
SHIPPING LINES HAVE ANNOUNCED HEAVY FINES FOR MISDECLARING CARGO after several high profile incidents recently. Hapag Lloyd for example will levy a fine of USD 15,000.00 for misdeclared hazardous cargo. In addition the shipper will be held liable for all associated costs and consequences including fines, damages, claims and corrective measures. A violation of Hazardous Material Regulation may also lead to criminal prosecution.
SOME BLANK SAILINGS ARE EXPECTED IN SEPTEMBER between Asia and Australia.
HAPAG LLOYD HAS ANNOUNCED A GENERAL RATE INCREASE from the North American West Coast to Australia / New Zealand effective 1 October. The GRI will be USD 100.00 per 20 foot and USD 175.00 per 40 foot container.
SHIPPING LINES FROM CHINA, KOREA, TAIWAN AND HONG KONG to Australia plan to implement a Rate Restoration / Peak Season Surcharge of USD 300.00 per TEU in September. For LCL cargo this will translate into an increase of USD 12.00 per cubic metre or 1,000 kg.
WE REPORTED PREVIOUSLY THAT FROM 1 JANUARY 2020 IT WILL BE MANDATORY FOR SHIPPING LINES TO USE 0.5% LOW SULPHUR FUEL. The current cap is 3.5%! According to recent estimates this will cost the shipping industry between USD 10 and 15 billion or USD 100.00 to 200.00 per TEU. The additional costs will be passed on to the shippers.
AAL HAS INTRODUCED A BUNKER SURCHARGE of USD 10.00 per RT (1,000 kilos of 1 cbm). AAL operates breakbulk / heavy lift vessels and states that it's impossible to absorb the recent considerable and consistent rise in fuel costs.
AIRFREIGHT NEWS
KOREAN AIR CARGO INCREASED ITS FULL FREIGHTER FREQUENCY TO SOUTH AMERICA. The carrier now operates three weekly B777F services from Incheon to Anchorage, Miami, Sao Paulo, Santiago, Lima and Los Angeles before returning to Incheon.
ACCORDING TO THE LATEST IATA STATISTICS INTERNATIONAL AIRFREIGHT VOLUMES CONTINUED TO DISAPPOINT. June was the 8th consecutive month of negative annual growth. Total international airfreight year to date for the first six months until June dropped by -4.3% and the Asia Pacific region continued to underperform with -8.1% negative growth. The US-China trade dispute contributed to this decline. According to feedback received from Asian airlines freight volumes in July continued in negative territory because of the trade war.
LATAM CARGO INCREASES ITS FULL FREIGHTER CAPACITY from 10 to 12 aircraft. The carrier added a B767-300F in July and expects another in December. The extra capacity will primarily be deployed between Colombia, Peru and the USA.
AUSTRALIAN PORTS
SYDNEY'S PORT BOTANY RECORDED VERY LOW NUMBERS IN JUNE. Total container trade in June was only 202,293 TEU which is 5% lower than in May and 7% less than June 2018. Imports of full containers was down by 9% on the previous year and exports of full containers dropped 9.6%.
AUGUST WAS A MUCH BETTER MONTH THAN JULY AS FAR AS INDUSTRIAL ACTION was concerned. After a challenging July industrial action was lifted in early August. The only exception seems to be a 24 hour stoppage at Sydney's Hutchinson Ports terminal on 29 August.
HIGH WINDS IN SYDNEY AND MELBOURNE affected the de-hire of empty containers around 9 August which in some cases resulted in additional trucking costs such as futile trips, truck detention etc.
BROWN MARMORATED STINK BUG (BMSB)
Please remember that the BMSB season starts on 1 September – please refer also to our August Newsletter. All shipments originating from the 32 target risk countries MUST be treated which will result in additional costs and longer door to door transit times. Non-containerised cargo as well as cargo shipped in Open Top or Flat rack containers MUST be treated overseas. Roll on / Roll off shipping lines are required to initiate a number of extraordinary measures to reduce the BMSB risk on their ships. To compensate for the additional costs the carriers will apply a surcharge of between USD 1.00 and USD 3.00 per cubic metre.
CUSTOMER SERVICE
If you would like further information about any of the above items, please contact one of our friendly Fracht Team members at fracht@frachtsyd.com.au