Fracht Australia News - September 2017
1/9/2017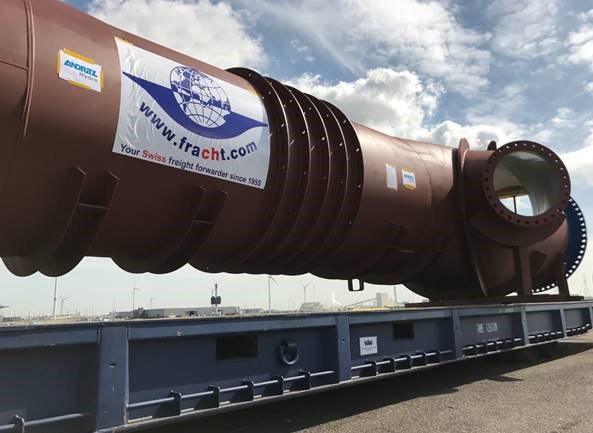 "It's better to walk alone than with a crowd going in the wrong direction."
Anonymous
SEAFREIGHT NEWS
WINKEY SHIPPING HAS LAUNCHED A NEW BREAKBULK SERVICE FROM CHINA TO THE PILBARA REGION. There will be monthly departures from Changshu / Shanghai to Dampier / Port Hedland. Inducement calls to Darwin, Fremantle, Geraldton or Bunbury will be made subject to sufficient volumes.
HAPAG LLOYD ADJUSTED ITS PORT COVERAGE ON THE EAX-SERVICE (Europe Australia Express). During the northbound voyage the calls to Port Kelang and Salerno will be dropped and the port of Piraeus will be added. This should improve connectivity to South European markets.
FOLLOWING THE MAIDEN VOYAGE OF THE WORLD'S LARGEST CONTAINER VESSEL around Northern Europe (Fracht July Newsletter) OOCL celebrated the arrival of the "OOCL Hong Kong" sister ship on 22 August. The new vessel "OOCL Germany" also boasts a capacity of 21,413 TEUs (twenty foot equivalent units). Four additional vessels with the same capacity will follow in the not too distant future.
ONCE AGAIN SHIPPING LINES HAVE ANNOUNCED A GENERAL RATE INCREASE of USD 200.00 per TEU from Asia to Australia effective 1 September. While similar announcements in the past couldn't be enforced indications are that this time at least some of the increase may be successfully implemented. This is due to the fact that currently space between Asia and Australia is getting tighter.
SWIRE SHIPPING ANNOUNCED THE UPGRADE OF ITS MICRONESIAN SERVICES. The carrier plans to introduce fixed day weekly services to Guam and Saipan.
AIRFREIGHT NEWS
SINGAPORE AIRLINES WILL INCREASE ITS FREQUENCY TO PARIS FROM SEVEN TO TEN FLIGHTS per week between 29 October 2017 and 24 March 2018. SIA has also entered a code share agreement with Lufthansa subsidiary Eurowings. This will give access to 15 Eurowings operated routes within Europe.
QATAR AIRWAYS PLANS TO FURTHER EXPAND ITS ACTIVITIES TO LATIN AMERICA. In early 2018 the carrier will commence four weekly cargo friendly A350-400 services from Doha to Rio de Janeiro and Santiago. Qatar Airways is a 10% shareholder of LATAM Airlines and has launched a code share agreement with LATAM on the 1 August.
THERE WERE MAJOR BACKLOGS IN AUGUST IN THE USA for Australia bound airfreight which in some cases resulted in delays.
IATA FIGURES REVEAL THAT AIRFREIGHT POSTED ITS STRONGEST FIRST HALF YEAR SINCE 2010. In the first six months of 2017 international airfreight increased by 11.5% and the Asia Pacific region achieved 11% growth.
AUSTRALIAN CUSTOMS & QUARANTINE
In view of recent events in Australia and overseas the Australian Border Force (ABF) increased security at Australian cargo facilities "to further enhance ABS's capability to detect and intercept high-risk goods". Our customs brokers report that recently some of the Border holds have taken a bit longer than usual to be released.
During week 34 we experienced delays of up to 75 minutes for response messages of the ICS (Integrated Cargo System). The ICS payment reports have also been returning incorrect data.
The Brown Marmorated Stink Bug Season 2017-18 is upon us and will affect predominantly importers of targeted break bulk and vehicles, boats, machinery and machinery parts from 1 September 2017 until 30 April 2018. The Department of Agriculture and Water Resources has developed measures to manage infestations in sea cargo shipped from the United States and now ALSO FROM ITALY.
AROUND THE WORLD
CHINA: Dangerous goods class 1 to 7 will no longer be accepted in the port of Quingdao. This came into effect on 4 August for exports and on 31 August for imports. Classes 8 & 9 are still acceptable.
CHINA: Due to the BRIC Summit in Xiamen all non-local trucks are prohibited from entering Xiamen from 17 August until 8 September. LCL deliveries are not possible during this period.
HOLLAND / BELGIUM: Due to port congestion in Rotterdam and Antwerp Hapag Lloyd has implemented a congestion surcharge of EUR 25.00 per container for all cargo arriving / departing using barge services.
EGYPT: Suez Canal fees dropped from USD 5.2 billion in 2015 to USD 5 billion in 2016. To address the problem the Egyptian Government now offers significant discounts for large ships transiting the Canal. Vessels carrying more than 3,332 containers will enjoy a discount of 50%, those with more than 500 will get 8% while ships with more than 200 will only receive a 2% reduction.
AUSTRALIAN PORTS AND AIRPORTS
THE MUA WORKERS AT QUBE NEWCASTLE PORT WALKED OFF THE JOB on 21 August due to an unresolved pay dispute. Qube claims that its business has become unviable because its competitor Newcastle Stevedores has agreed lower pay scales with the MUA. Qube's higher pay structure meant that the company has been unable to win business based on price in Newcastle for several years.
HIGH WINDS CAUSED THE CLOSURE OF PORT BOTANY terminals and surrounding container dehire yards on 18 August.
MELBOURNE FORWARDERS HAVE BEEN EXPERIENCING DELAYS dropping exports and collecting imports after Qantas merged its international and domestic freight terminals on 31 July. Meanwhile in Sydney it is now quite common to expect around two hours waiting time for trucks collecting cargo from all airfreight CTOs (Cargo Terminal Operators).