Fracht Australia News - September 2016
1/9/2016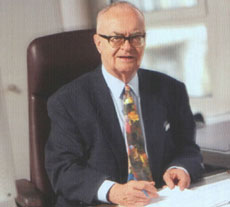 "Everything is difficult………before it is easy!
Anonymous
IN MEMORIAM – MR. RUEDI REISDORF SENIOR – 10.2.1927 – 17.8.2016
We have the sad duty to inform you that the founder of Fracht AG, Basel, Switzerland passed away peacefully after a short stay in hospital. He had a long, successful and beautiful life full of outstanding achievements, not only in business but also for charity. He will be fondly remembered by his family and all his friends in many countries around the world.
The management of the worldwide Fracht organisation was transferred to the founder's son – Mr. Ruedi Reisdorf junior – many years ago and he will continue to lead the successful growth of the group.
SEAFREIGHT NEWS
GOOD NEWS FOR SOUTH AUSTRALIAN IMPORTERS AND EXPORTERS. Maersk Line, the world's largest container line, has launched a direct weekly Adelaide call on its "Boomerang Service". The rotation of these ships with a minimum capacity of 5,500 TEUs (twenty foot equivalent units) is Yokohama – Osaka – Busan – Qingdao – Shanghai – Ningbo – Brisbane – Sydney – Melbourne – Adelaide – Fremantle – Tanjung Pelepas – Singapore – Laem Chabang.
MAERSK LINE WILL STOP SERVICES TO / FROM 10 FEEDER PORTS IN CHINA on 1 September. The 10 ports are Chizhou, Luzhou, Yingkou, Jinzhou, Rizhan, Yueyang, Lijiao, Taiping, Jiaoxin and Nansha old port. These ports only generated approx. 600 TEUs per year and Maersk wants to focus on ports that can create better growth.
THE NORTH AMERICA / OCEANIA TRADE OF US LINES (USL) WILL BE ASSUMED BY APL effective 1 October. USL operated the transpacific services for eight years on behalf of ANL Singapore. Both APL and ANL are part of the CMA CGM group. Nothing will change for the customers because APL will retain the previous USL vessel network and sales coverage.
OVER 300 CONTAINER SHIPS WITH A COMBINED CAPACITY OF MORE THAN 800,000 TEUs were idle in July 2016. In July of the previous two years less than a quarter of this unused capacity was idle. A combination of a weak transpacific peak season, low freight rates and muted demand was the reason for carriers to lay up ships.
NYK OFFERS AN OPPORTUNITY FOR EXPORTERS IN THE NORTHERN TERRITORY: MV "Polaris" V063 will accept self propelled and static cargo to Singapore and beyond. The current schedule is ETD Fremantle 12 September, Darwin 20 September and ETA Singapore 26 September.
ANOTHER "RATE RESTORATION" OF USD 300.00 PER TEU has been announced for cargo from North East Asia to Australia but it's unlikely that the shipping lines will be able to enforce the full increase in the current market. This increase is planned for 1 September. From South East Asia carriers have announced an increase of USD 75.00 per TEU effective 15 September.
AIRFREIGHT NEWS
VIRGIN ATLANTIC'S NEW USD 4.4 BILLION ORDER for 12 A350-1000 aircraft will boost the carriers lower deck cargo capacity by 10-22% depending on the final configuration. The new aircraft will replace the carrier's remaining 747-400s and A340-600s.
EARLIER THIS YEAR THE HONG KONG CIVIL AVIATION DEPARTMENT CANCELLED THE FUEL SURCHARGE for airfreight. Given that recently the price of Brent oil increased from USD 36.00 to USD 47 per barrel Cathay Pacific Cargo has introduced a new "airfreight adjustment" as a variable component of the freight rates. When the price per barrel is between USD 47 and 51.99 the "airfreight adjustment" will be HKD 0.50/kg for short haul and HKD 1.60/kg for longhaul.
IATA STATISTICS REVEAL THAT INDUSTRY-WIDE CAPACITY INCREASED BY 6% year on year in the first half of 2016, 12 times faster than demand! As a result freight load factors dropped to a record low of 42.5% and 2.3% less than first half of 2015. While international airfreight volumes in June 2016 increased by 4.1% compared to June 2015, the year to date figures are still unsatisfactory with +0.2% for international cargo and -2.2% for the Asia Pacific region.
AUSTRALIAN CUSTOMS AND QUARANTINE
THE DEPARTMENT OF AGRICULTURE AND WATER RESOURCES has developed proposed measures to manage the seasonal risk of brown marmorated stink bug infestations associated with the importation of targeted break bulk and containerised vehicles, boats, machinery and parts shipped from the USA between 1 September 2016 and 30 April 2017. The 2016-17 measures are largely the same as the previous year's measures which included full biosecurity inspection upon arrival in Australia for breakbulk cargos loaded in Savannah and Baltimore.
IN AUGUST FORWARDERS AND CUSTOMS BROKERS EXPERIENCED problems on a couple of days with the Integrated Cargo System (ICS) of the Border Force. This included slowness, timeouts and inability to access ICS. The issue was escalated to the Department of Immigration and Border Protection.
AROUND THE WORLD
CONGRATULATIONS TO THE AUSTRALIAN ATHLETES FOR their outstanding achievements in Rio de Janeiro. Australia was a proud number 10 in the medal standings. From a logistics point of view everything is back to normal in Brazil now.
ALSO IN EUROPE THE SUMMER HOLIDAY SEASON is over. All companies are back to work and truck restrictions have been lifted.
THE MARINE TERMINAL OPERATORS AT THE PORTS OF LOS ANGELES and Long Beach have increased the Traffic Mitigation Fee (also known as "Pierpass") to USD 70.49 per TEU on 8 August.
MOST OFFICES IN MAINLAND CHINA WILL BE CLOSED on 15 and 16 September for Mid Autumn Festival.