Fracht Australia News - June 2015
1/6/2015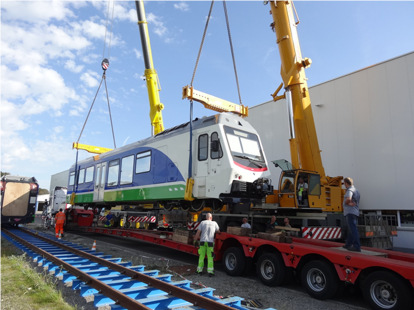 "You can never cross the ocean until you have the courage to lose sight of the shore."
Christopher Columbus
TRANSPORT INSURANCE IS IMPORTANT
From time to time we want to remind our clients that transport insurance is important and we strongly recommend to arrange for door to door cover for all your imports and exports by air and sea. Airlines, shipping lines, terminals, cargo handlers, trucking companies etc generally have very limited cover. Most of the Australian trucking companies, cargo handlers or warehouses offer ZERO compensation for lost or damaged cargo. If the ship which carries your cargo is involved in an accident and the shipping line declares "general average" (Havarie grosse), you could be proportionally liable for damaged cargo even if YOUR shipment did not sustain any damage.
AIRFREIGHT NEWS
CATHAY PACIFIC RETURNS TO ZURICH and now offers daily direct B777-300 ER services to / from Hong Kong. This aircraft can carry up to 30,000 kilos of airfreight.
AIR INDIA CHANGED ITS TIME TABLE FROM AUSTRALIA TO NEW DELHI and now departs at 9.45am on Monday, Thursday and Saturday from Melbourne and the remaining days of the week from Sydney.
IATA REPORTS THAT AFTER UNUSUALLY STRONG GROWTH in February thanks to the Lunar New Year and sea port congestion in the USA, March figures returned to moderate growth. Year to date comparison between 2015 and 2014 up to March indicates that international airfreight grew 5.8% while Asia Pacific achieved +9%.
QATAR AIRWAYS NOW OPERATES FREIGHTER SERVICES TO LOS ANGELES. The twice weekly B777F carries up to 100 tonnes each flight. In addition to Los Angeles, Qatar Airways also offers full freighter services to Houston, Chicago and Atlanta.
SEAFREIGHT NEWS
SWIRE SHIPPING WILL LAUNCH A NEW NORTH ASIA EXPRESS SERVICE IN JULY. It will offer a 16-day transit time between Shanghai and Lae (Papua New Guinea) and 10 days between Townsville and Shanghai. Two general cargo vessels carrying project and containerised freight will offer sailings every 20 days from Shanghai to Kaohsiung, Lae, Townsville and back to Shanghai.
HAMBURG SUD NOW CALLS ADELAIDE on its southbound Asian services between Fremantle and Melbourne. This move also creates the only eastbound direct sailings with fast transit times from Adelaide to the North Asian ports of Yokohama, Osaka, Busan, Quingdao, Shanghai and Ningbo.
SHIPPING LINES FROM NORTH AMERICA TO AUSTRALIA HAVE ANNOUNCED A GENERAL RATE INCREASE OF USD 175.00 per TEU (twenty foot equivalent unit) from 15 June 2015. This translates into a GRI of USD 7.00 per cubic metre for LCL-cargo.
CMA CGM WILL REDUCE THE BUNKER SURCHARGE FROM THE USA TO USD 463.00 per TEU effective 15 June and slightly increase the surcharge from Europe to USD 391.00 per TEU on 1 June.
AUSTRALIAN CUSTOMS AND QUARANTINE
THE DEPARTMENT OF AGRICULTURE HAS ANNOUNCED THE CESSATION OF EMERGENCY MEASURES for the Brown Marmorated Stink Bugs from 1 May 2015 (see also our January/February Logistics News). This means that target goods are no longer subject to pre-shipment treatment requirements.
THE MAY FEDERAL BUDGET WILL ALSO IMPACT IMPORTERS AND EXPORTERS. Customs penalties will increase from AUD 170.00 to 180.00 per unit from 31 July 2015. That means that the "standard fine" will increase from AUD 7650.00 to AUD 8100.00!! Licence fees for customs brokers will increase on 1 January 2016 and increased Import Processing Charges are expected to put an additional AUD 107 million into the Government's coffers over the next four years.
COASTAL SHIPPING
SEA SWIFT HAS ANNOUNCED THE LAUNCH OF A NEW NORTHERN AUSTRALIA SERVICE between Darwin and Cairns. The new monthly service originates in Cairns and calls at Horn Island, Weipa, Gove, Groote Eylandt and Darwin.
THE FEDERAL GOVERNMENT PLANS to scrap the current cumbersome and complicated coastal trading regime and introduce a more workable and user friendly system similar to the "Pre Albanese-era".
AROUND THE WORLD
AN INDEFINITE AND NATIONWIDE CUSTOMS STRIKE COMMENCED IN CHILE on 20 May. Some emergency measures are in place for passenger traffic but air, land and sea border points for commercial cargo are closed.
THE PORT OF HAMBURG CELEBRATED ITS 826TH ANNIVERSARY on 8-10 May! Hamburg's port is a touch older than Australian ports and dates back to the Emperor Frederick Barbarossa who issued a charter to Hamburg's merchants on 7 May 1189 granting freedom from customs duties for ships sailing on the river Elbe from Hamburg to the North Sea.
EXTREME PORT CONGESTION IN NEW JERSEY has increased truck waiting time from approx 3 to 6 hours resulting in a surcharge of USD 250.00 for pick up and return of containers.
THE LABOUR DISPUTE IN US WEST COAST PORTS ENDED IN MARCH and finally in May anchored boxships waiting outside Los Angeles / Long Beach Ports fell to zero at the end of May.
AUSTRALIAN PORTS
THE WESTERN AUSTRALIAN GOVERNMENT HAS ANNNOUNCED PLANS TO SELL THE PORT OF FREMANTLE. The port currently handles 700,000 TEUs per year and is the top asset on the Government's sales list.
THE PORT OF TOWNSVILLE'S NORTHERN STEVEDORING SERVICES is investing AUD 750,000.00 in wharf surfaces to increase productivity for Swire's new North Asia Express service. Further upgrades of berth 4 are under consideration.
ANL DEPARTED FROM PATRICK'S PORT BOTANY TERMINAL DUE TO "AUTOMATION WOES" (Fracht April News). The disruption affected ANL's strict weekly schedule. ANL ships are now handled by Hutchinson.