Fracht Australia News - July / August 2016
25/7/2016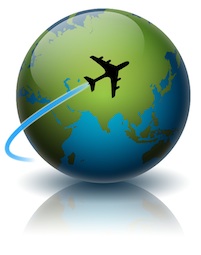 "The customer may not always be right, but they are always the customer."
Anonymous
AROUND THE WORLD
CUSTOMS AUTHORITIES IN AUSTRALIA AND NEW ZEALAND have signed a Mutual Recognition Agreement that accepts each other's supply chain security programmes and provides reciprocal benefits to the other country's Trusted Partners. The agreement will ensure that members of the Australian Trusted Trader programme and the NZCS Secure Exports Scheme receive preferential border treatment and trade facilitation benefits when conducting trans Tasman trade.
EIGHT AIRLINES WERE RECENTLY GRANTED RIGHTS TO FLY PASSENGER SERVICES BETWEEN THE USA AND CUBA and now the US Department of Transportation has granted FEDEX the rights to operate five weekly full freighter services between Miami and Cuba's second busiest airport Manzanas located just over 100 kilometres east of Havana.
CHINA SETS AN AMBITIOUS GOAL TO ESTABLISH RAILWAY CONNECTIONS to 80% of domestic ports and logistics parks by 2018. The ports of Dalian, Tianjin, Qingdao, Ningbo-Zhoushan, Guangzhou, Chongqing, Wuhan and Nanjing are among the major players designated to lead the initiative.
FRACHT SWITZERLAND'S OFFICE FOR SPECIAL PROJECTS has moved from Maegenwil and is now located in the same building as Fracht's Transport Engineering office: TB Heavy Lift Engineering AG, Bahnhofstrasse 88, 5430 Wettingen, Switzerland, Tel. +41 62 8961680.
AIRFREIGHT NEWS
SINGAPORE AIRLINES EXPANDS ITS US OPERATION by launching a non-stop flight between Singapore and San Francisco and a second daily service to Los Angeles on 23 October. The non-stop Singapore to San Francisco flight will be operated by A350-900 aircraft. Flying time for the 13,600 km journey will be between 14:35 hours and 17:45 hours depending on the direction and the time of the year.
EMIRATES SKYCARGO HAS INTRODUCED A NEW B777 FULL FREIGHTER SERVICE from Hong Kong to Dubai via Delhi. This service is in addition to Emirate's 18 weekly freighters direct from Hong Kong to Dubai and twice weekly services from Shanghai via Mumbai to Dubai.
CATHAY PACIFIC WILL ADD PORTLAND, OREGON TO ITS TWICE WEEKLY FULL FREIGHTER SERVICE FROM HONG KONG to the US West Coast. The new rotation will be Hong Kong – Anchorage – Los Angeles – Portland – Anchorage – Hong Kong with departures every Thursday and Saturday. Portland will be Cathay's 19th full freighter destination in the Americas.
MALAYSIAN AIRLINE'S MASKARGO NOW OFFERS TWO NEW FULL FREIGHTER DESTINATIONS: The A330-200F to Mumbai operates twice per week and Zhengzhou is a weekly service.
ACCORDING TO IATA STATISTICS THE TOP 5 AIRFREIGHT CARRIERS IN 2015 ranked by total freight tonnes carried were Fedex, UPS, Emirates, Cathay Pacific and Korean Air.
INTERNATIONAL AIRFREIGHT VOLUMES IN 2016 ARE STILL BELOW THE 2015 LEVELS. For the five months up to May 2016 international volumes declined by -0.9% and the Asia Pacific region was even worse with -4%.
SEAFREIGHT NEWS
A NEW ASIA AUSTRALIA CONSORTIUM (A3) HAS BEEN ESTABLISHED consisting of Orient Overseas Container Line (OOCL), ANL Container Line and COSCO Container Line. The A3 will launch three dedicated weekly services, namely the Northern Express, Central Express and Southern Express. The new services are due to commence in September or October and the rotations will be as follows: Northern Express = Yokohama – Osaka – Busan – Qingdao – Shanghai – Kaohsiung – Melbourne – Sydney – Brisbane – Yokohama, Central Express = Shanghai – Ningbo – Sydney – Melbourne – Brisbane – Shanghai and Southern Express = Kaohsiung – Xiamen – Shekou – Hong Kong – Sydney – Melbourne – Brisbane – Kaohsiung.
GOOD NEWS FOR SOUTH AUSTRALIA'S IMPORTERS AND EXPORTERS: Maersk Line will offer a new direct Adelaide call on its Boomerang Service, westbound from North Asia and northbound to South East Asia. The new Boomerang rotation will be Yokohama – Osaka – Busan – Qingdao – Shanghai – Ningbo – Brisbane – Sydney – Melbourne – Adelaide – Fremantle – Tanjung Pelepas – Singapore – Laem Chabang. The first Adelaide call will be on 4 August.
HAPAG LLOYD AND UASC SIGN BUSINESS COMBINATON AGREEMENT (BCA) to merge both companies subject to regulatory and contractual approvals which should be completed by the end of 2016. Following the integration Hapag Lloyd will rank in the top five largest container shipping lines with a capacity of approx. 1.6 million TEUs (twenty foot equivalent units), an annual transport volume of 10 million TEUs and a combined turnover of approx. USD 12 billion.
A PEAK SEASON SURCHARGE OF USD 150.00 – 175.00 PER TEU has been implemented by most shipping lines from Mediterranean ports to Australia / New Zealand.
ONCE AGAIN SHIPPING LINES FROM NORTH ASIA TO AUSTRALIA HAVE ANNOUNCED A"RATE RESTORATION" of USD 300.00 per TEU effective 1 August, but considering the current soft market it's unlikely that this increase can be enforced in full.
BIG INCREASES IN CONTAINER VOLUMES VIA AUSTRALIAN AND OCEANIA PORTS
Container throughput via Australian and Oceania ports have increased significantly in the first five months up to May 2016 compared with the same period the previous year. Import volumes have increased by 35.2% to 1,722,500 TEUs. In the same period 1,133,300 TEUs were exported which represents an increase of 5.71%. Overall a very good development, if only export figures were similar to imports……